Flexible Education Solutions
We offer districts, schools, teachers, parents, and students all the resources they need to succeed, including a rigorous online curriculum, a robust supplemental learning tool, and accompanying training and support to fit their lifestyle, location, and learning style.
Virtual Learning
In a fully online learning environment, Lincoln Learning's digital curriculum provides students with access to all the materials they need for asynchronous learning. Courses include interactive content, online and offline activities, and assessments.
The flexibility of virtual learning benefits students with different life demands, such as a sports/school balance, family responsibilities, or access to a wider range of courses. Our virtual courses allow students to achieve their educational goals.
Blended Learning
Classroom teachers can use Lincoln Learning's digital curriculum to blend the benefits of traditional classroom teaching with emerging technology. Our curriculum provides teachers with a wide variety of digital resources, such as interactive practice problems, activities, videos, and games.
Blended learning strategies such as station rotation, individual rotation, and flipped classroom can be implemented with Lincoln Learning's curriculum.
Hybrid Learning
Lincoln Learning's digital curriculum can be seamlessly implemented in a hybrid environment, where students split their time between learning in a traditional classroom and learning online. Teachers can provide students with access to the same materials and instruction regardless of where they are learning. 
Having a digital curriculum for hybrid learning helps any school maintain uninterrupted instruction during emergency closures. Students can easily access their coursework online and continue learning where they left off.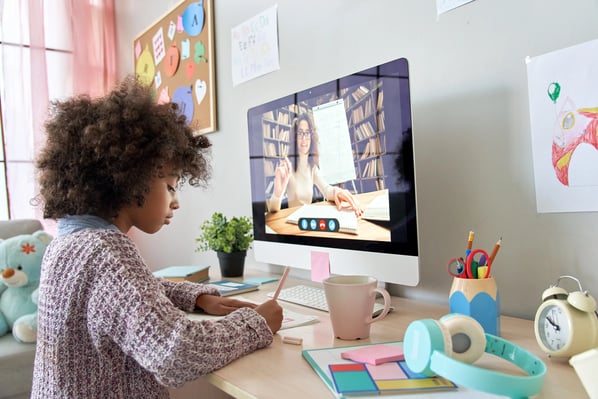 As an administrator, I appreciate and am assured that the Lincoln Empowered content is aligned to standards and promotes higher-level thinking. The fun videos make the curriculum particularly engaging, and the coursework is organized and easy to navigate.
Director of Curriculum, Inspire Charter School
We enrolled in Lincoln Learning's Kindergarten class for English and Math. The curriculum was jam-packed with educational resources like videos, games, and worksheets. The combination of all three helped teach my daughter, while holding her attention. She is now a brilliant reader and I attribute it to Lincoln Learning's excellent program. She's also comfortable with numbers and ready to take on her math lessons. I'm so proud of her. Thank you LL!
HTA has had many special requests over the years. Lincoln has been extraordinarily open to working with HTA to ensure the best possible result as we navigated the incredible journey of keeping up with educational technology's evolution in recent years.
Hawaii Technology Academy
Lincoln Learning has been such a blessing in an already stressful season in education. Everyone at Lincoln Learning has been patient and gracious to me. Your initial start up training was informative and answered all of my questions. The training videos and support materials helped me work at my own pace and explained everything that I needed to know to being the process.
Elementary Principal/Special Education Supervisor